Patio Cleaning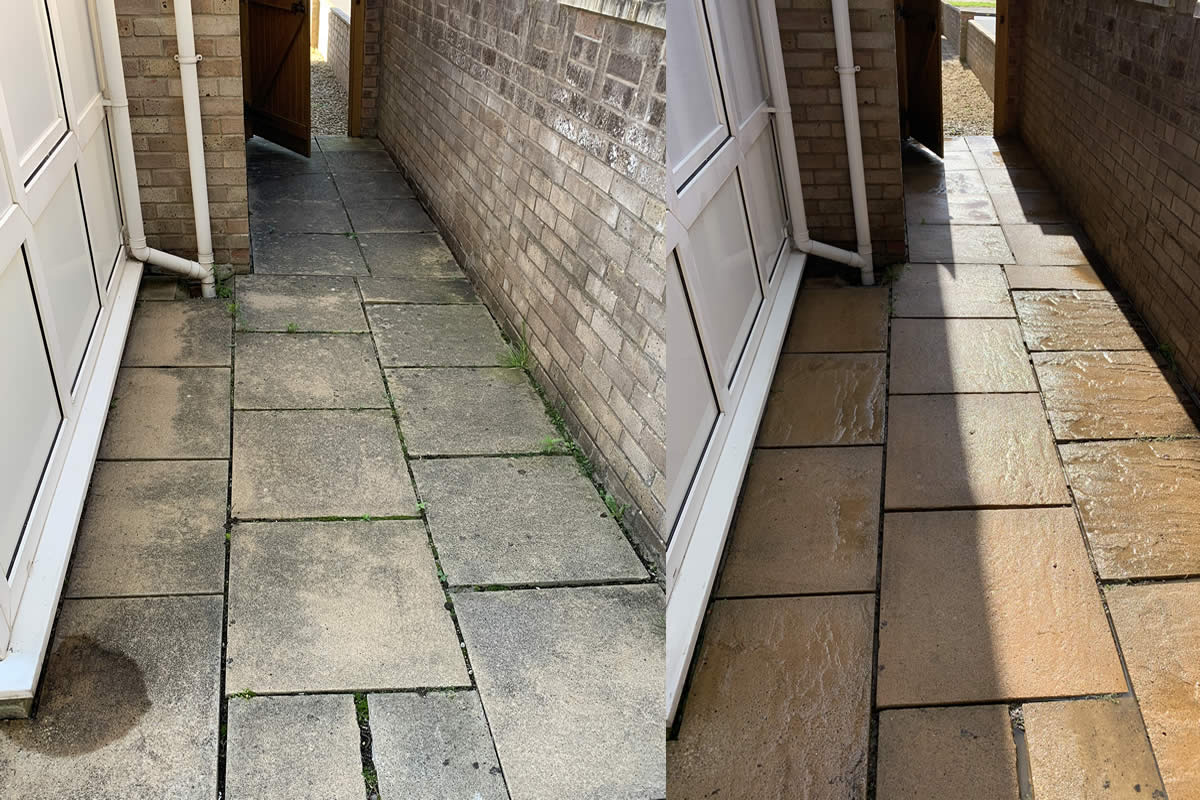 Andy Klean can dramatically improve the look of your surfaces with our pressure washing service.
By using our high pressure equipment and techniques, we can remove the moss, algae and dirt that is ruining the beauty of your Patio, Paving, Decking or Driveway.
This is a very popular service here at Andy Klean so know that you're in safe hands with our experience and full liability insurance that covers every aspect of exterior cleaning. Dirty looking patios and paving not only look bad but can be slippery and dangerous due to the build up of mildue, mold and algae.
We will do:
Concrete cleaning
Brick cleaning
Flagstone cleaning
Pavers cleaning
Tile/Slab cleaning
Stone cleaning

Check out some more photos of Andy at work Patio Clean Photos
Andy Klean Decking Clean
Removes mold, mildew, algae
Remove weeds and moss
Outstanding results
Keith Smith , Bristol
Date: 26-03-2019
Andy is a great lad. He provided a first class & very personal service to us recently resolving what was a real problem presented by a severly compacted & blocked snowbox & downpipe at the rear of an old victorian terraced house in Mildred St Bristol. Direct access proved difficult over a conservatory covering the entire width of the house where in normally circimstances scaffolding would of been required! Andy overcame & dispensed with the need for this using his bespoke, specialised and adaptable industrial vaccuming & window cleaning equipment which has been designed specifically & made fit for purpose,! He applied himself & overcame the issue, saving us potentially additional costs & completed the task with dedication, profesionalism & patience & within our agreed fixed price too!
Andy on solving the initial problem, volenteered to then go on to wash & clean the entire windows & doors of the property & then also washed down the walls front & back! In cleaning out the front guttering, he resolved another unseen blockage & potential problem building up at the front of the house. We can\'t thank him enough.
Andy made a worrying issue a thouroughly enjoyable experiance & spent approx 4 hours on the job, proved 100% reliable & nothing was too much trouble, if there is a problem he will go the extra mile to resolve it, even to the detriment of himself as he completed this task after only recently recovering from a back injury he sustained, which postponed the job to start with for 2 weeks! He then, as promised at the time, contacted me again to set up a time & date to come back & fulfill the job which as I say was done wholly professionally & completed very satisfactorily & to an excellent standard. I would reccomend him wholeheartedly & would\'nt hesitate to use him again. We were lucky to come across him & If 10 stars were available he\'d get a 10/10. We wish him every success with his new business. Top man.
(Source: Facebook)
Add your own review or testimonial Add a Review
---
---
Do you have any questions?
Send your details and we will call you back.
---