Do you have a 90°  gutter joint that is overflowing with water?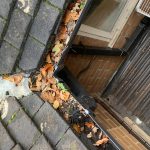 These 90° joints Get clogged up very often with moss, dirt or a piece of roof mortar. As soon a slight clogg occurs, the water flow is restricted and more  and more dirt builds up in the corner. When moss and dirt is exposed to rain water, it socks as much water up as possoble and becomes extremely heavy. Just imagine holding a dry car wash sponge, it is extremely light. Well now plunge it into a bucket of water and pull it back out. That sponge is now quite heavy isn't it! Well It is the same principle in the gutters. The weight, will tip the joint backwards as its only held on with clips, and then as it rains, that water simply overflows.
Book Andy Klean for your Gutter Cleaning needs. we can clear all joints, guttering, downpipes and soakaways.